Tim Goodman (Justice Smith) works with insurance these days forgetting a time when he passionately wanted to be a Pokemon trainer. Learning of his father's demise, he travels to Rhyme City where humans and Pokemon coexist. Squirtle teams put out fires, Snubbles is the police crime hound and a talking Pikachu (Ryan Reynolds) worked with Tim's father on a mysterious case.
Although this marks its debut in live-action, there have been many Pokemon movies in the past. Some are great, some are good, and some are hypocritical to the brand's existence.
But since Castlevania dominates the streaming territory, it makes sense to try and set the standards in theaters after 2016 failed four times to deliver a legitimately good video game movie. With a property that's had more experience across multiple generations in games and movies, why not venture into big budget territory? This isn't just adapting the core games, but also the anime and the Detective Pikachu 3DS game. So for die hard fans of all three sources, this might be a tough compromise to accept when going in. Pokemon isn't about complex characters or a deep story that's present in something like The Last of Us, it's about catching creatures for fun or for battles. So when trying to weave a story around 300 species plus one mascot, it's no surprise that the human characters, save the main lead, fall flat in comparison. Justice Smith brings a surprising amount of emotion and weight when showing his tragic backstory that could give the animated Ash Ketchum a run for his money. And he often channels his inner Bob Hoskins by taking his role seriously despite having a computer generated co-star. But it's quickly overshadowed by Reynolds' improvisation that distracts from the potential to welcome newcomers to the franchise. Not all his jokes land, but the charisma and energy keeps him in check throughout the case (I'm surprised he wasn't cast as the Genie for the live-action Aladdin). The simplicity of the story can show wear and tear with characters like the journalist serving very little purpose apart from an adorable Psyduck tag-along, but the case still holds a few twists that does something different with certain clichés, unlike Smith's unfortunate run in with Jurassic World: Fallen Kingdom.
Speaking of the creatures, they're easily the selling point in the foreground and background. For something that's very grounded in animation, the Pokemon themselves survived the journey to the real world with little compromise, showing how far the industry has come after botching up something as simple as a Goomba in Super Mario Brothers.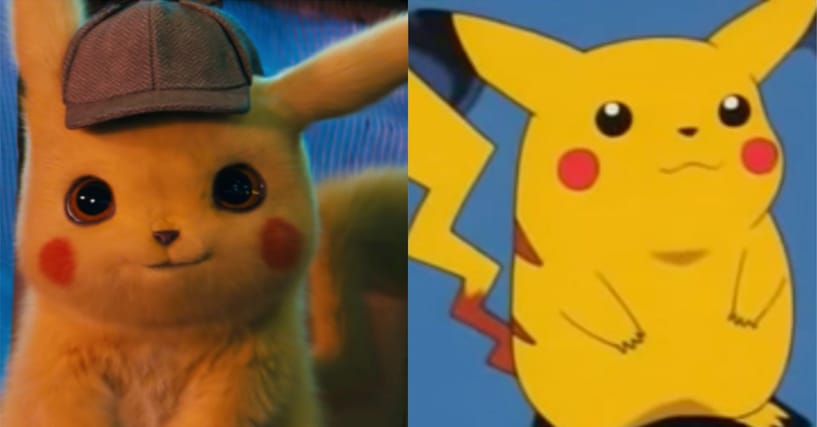 Littering them throughout the neon soaked Rhyme City gives a sense of world-building when integrated with crowds, and the funny nods surrounding their powers and personalities elevates the experience of sharing two worlds. One joke involving the interrogation of the creepy Mr. Mime easily became the standout comedic highlight that doesn't center around Pikachu's dialogue. Something like this might not be enough to carry an entire feature, but combined with the mostly consistent comedy there's enough style and substance to enjoy the ride.
Pokemon Detective Pikachu isn't a masterpiece, but it's the better video game movie after suffering through disappointments like Ratchet and Clank, Angry Birds, Warcraft and Assassin's Creed. Aside from the million and two one-liners from Reynolds, the care that went into making the creature designs constructive to the world building keeps to the franchise's spirit. And while the simplistic detective story isn't perfect, it turns a few clichés into curve-balls to keep the viewer guessing. But I can't recommend this to casual movie goers because there's too many questions that'll pop up every two minutes: What's a Pokemon? Where are the real animals? Why is that dog pink? What's the difference between plant life and plant Pokemon? This is strictly for the fans, otherwise it'll feel like being dragged to the latest Twilight movie. But if that's what it takes to make a genuinely good video game movie, it's not a huge sacrifice. What you see is what you get, and this yellow mouse has it in the bag, or this case, the Pokeball.
Pros: Faithful realistic effects, twisting mystery, Neon Rhyme City, strong lead, plot simplicity, smooth comedy
Cons: Fans only, flat human characters, plot simplicity
7/10
What did you think of Pokemon Detective Pikachu? What's you're favorite Pokemon from each generation or in general? Comment and discuss with others.
Also if you enjoy reading our content, feel free to Like, Follow, and Share both our website and social media page with family and friends! This is TheCinematicBandicoot saying PIKA PIKA!!!!!!!